What is MaaS?
MaaS (Mobility as a Service) is a new type of mobility service that combines different modes of transportation (e.g. buses, trains, taxis, car and ride sharing services) into a single package, in order to facilitate seamless intermodal travel.
What is MaaS roaming?
Inspired by the telecoms industry, MaaS roaming will allow for international multimodal travel via a single digital interface. MaaS roaming is designed to facilitate simpler and more efficient booking, planning and administration of international trips whilst helping organizations to reduce travel expenditures and manage employees' mobility according to sustainability goals.
What is NOMAD?
NOMAD (Nordic Open Mobility and Digitalization) is a research and innovation project funded by Nordic Innovation and coordinated by ITS Norway that aims to develop an open, pan Nordic mobility system for MaaS solutions. The project explores the concept of roaming as a means to inspire to service agreements between MaaS operators that will benefit individual travelers and organizations, and that will support parallel developments in open data standards within the Nordic region.
---
Plan of Action
The activities to be completed throughout the project are structured in seven work packages (WP). Most of the WPs have inter-dependencies and the most important components and services will be improved through iterations.
The figure below presents the overall organization of the work packages and a timeline for implementation: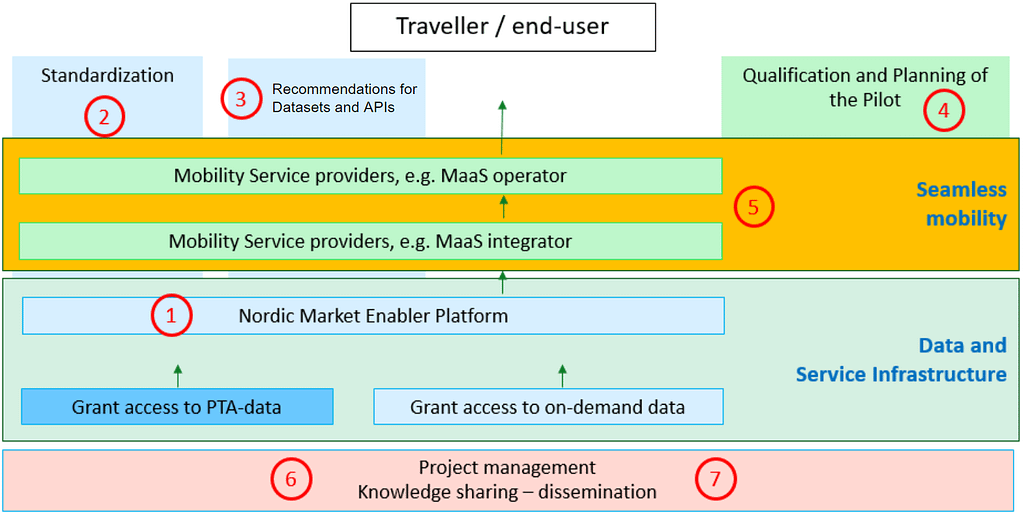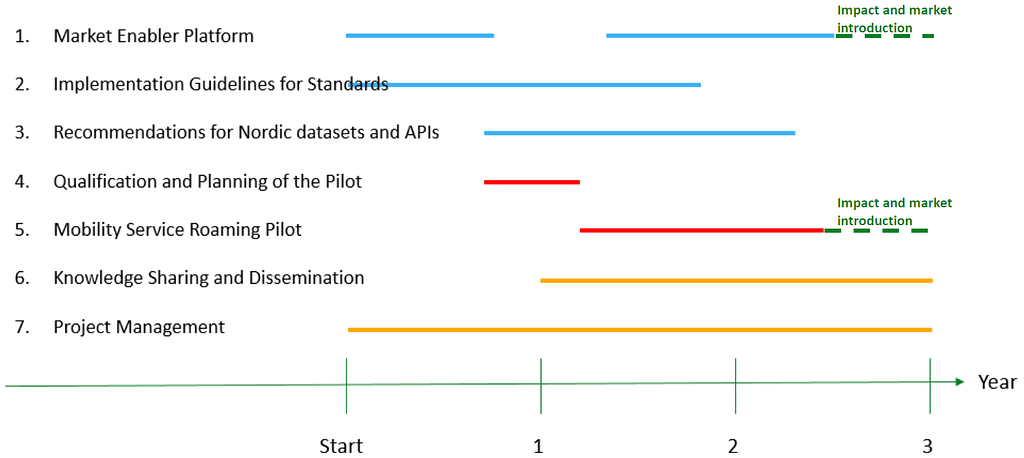 ---
---
Work package 1: Market Enabler Platform (Lead: ITS Nordics)
Objective:
Collaborate with the ODIN project to establish an all-mode (public and private, scheduled and on-demand) platform. This platform will enable all MaaS-operators and mobility service providers to share or gain access to transport data of all modes and types in the Nordic countries. Thus, the platform will serve as a Market Enabler for companies offering multi-modal mobility services available for users across the Nordics. The Market Enabler Platform should be conceptualized to make multiple implementations to meet market demands or for testing purposes.
The platform will be established in iterations based on findings in the demonstrations and pilot runs and in tight collaboration with the ODIN project and with LMJ, Entur and Samtrafiken working to develop an Open Trip Planner. During the first iteration the minimum service needed to demonstrate all its functions and services will be established. This first iteration platform will be used as a qualifying tool to prove that the project will deliver multi-modal and cross-border services.
Execution and deliverables:
Task 1: Specification of the platform

The WP will agree on and create the initial specification for the platform and continue to do so for each new iteration

Task 2: Establishment of the first and later iterations of the platform

Build and implement the platform according to the specification for each iteration

Task 3: Documentations of the platform

Document the final versions of platform

Task 4: Realize impact and facilitate exploitation
---
Work package 2: Implementation Guidelines for Standards (Lead: ITS Nordics)
Objective:
This WP shall collaborate with the ODIN project to develop and iterate implementation guidelines for all relevant standards that are needed for the whole ecosystem and oversee the ecosystem's compliance with the relevant standards. The WP will be sensitive to change requests made during the demonstrations and pilot runs and bring these requests and other inputs to the proper standardization committees or authorities.
Execution and deliverables:
Task 1: Assessment of standards

The WP will make a list of relevant standards and make an analysis of which standards to implement

Task 2: Develop implementation guidelines

Collaborate with ODIN project on developing first and later versions of the implementation guidelines. The number of versions of guidelines depends on the maturity of the standards and to which extent the standard is adopted to the use-cases or to the real world.
---
Work package 3: Recommendations for Nordic datasets and APIs (Lead: ITS Nordics)
Objective:
This WP shall develop the necessary insight to suggest best practices, ownership and Intellectual Property Rights (IPR) principles for data, platforms, concepts and APIs. Based on the SHORT pre-project report, (financed by NI), the WP will make an assessment of status and develop recommendations the actors regarding these issues. The WP will also list related issues that might hamper provision of data and/or MaaS-operation, e.g. business models, and access-issues. The purpose of the VP is to make the operational phase easier. This WP will be completed in close collaboration with ODIN project and similar initiatives.
Execution and deliverables:
Task 1: Assessment

Assess, list and describe issues related to ownership, IPR and business models.

Task 2: Ownership and business models

Suggest concepts and principles for all issues based on testing and trials during the pilot run.

Task 3: Conclusion

Describe best practices and fair principles that supports IPR, viable business models and ownership
---
Work package 4: Qualification and Planning of the Pilot (Leads: RISE & TØI)
Objective:
This WP will qualify and demonstrate how existing, state-of-the-art MaaS technology can be used to enable cross-border and cross-service roaming that meets real mobility needs in the relevant, Pan-Nordic environment.
Execution and deliverables:
Task 1: Description of Pan-Nordic use-cases/scenarios

Agree on Pan-Nordic use-cases/scenarios that reflect real-life challenges for the prototype-ecosystem. Each of the cases shall contain at least one cross-border and one cross-mode service. The combination of all the cases should cover all aspects of real Pan-Nordic mobility services in a fully operational environment.

Task 2: Two 2-day workshops to facilitate preparation and running of the field tests
Task 3: Field test and qualification report

Perform a small scale test or simulation of roaming in the relevant environment using existing technology. Prepare a report verifying the demonstration and describing the proof of qualification.
Links to activities in WP4:
NOMAD online workshop 23rd of March about the user stories for the pilot test
Videos for the two user stories of a fictive MaaS roaming solution
---
Work package 5: Mobility Service Roaming Pilot (Leads: TBA)
Objective:
This WP will serve as a test of both cross-border / cross-service MaaS roaming and the practical application of the market enabler platform. The pilot will be implemented between existing MaaS and mobility services of consortium members and meet realistic technological and commercial requirements. The pilot will include at least two Nordic countries. Upon conclusion of the pilot period, the operation will be evaluated to determine the need for and value of MaaS roaming. If possible, the operation will be iterated upon based on pilot results and continued on commercial terms.
Execution and deliverables:
Task 1: Assessment and planning

Based on the results of WP 1 and current state of MaaS operations in the consortium, prepare an implementation plan for MaaS roaming pilot.

Task 2: MaaS roaming solution deployment

Deploy a technological and business solution meeting realistic requirements according to implementation plan.

Task 3: Pilot

Run the pilot for 12 months with a representative group of users from each participating MaaS or mobility service provider. Where necessary, provide funding and specific travel plans to users for testing purposes.

Task 4: Pilot evaluation

Collect and process travel data. Interview users before, during and after the pilot.

Task 5: Realize impact and facilitate exploitation
---
Work package 6: Knowledge Sharing and Dissemination (Lead: Capital Region of Denmark)
Objective:
A project website will be set up with knowledge sharing and dissemination about challenges and results – and a LinkedIn profile will be linked to the project to share results and invitations for workshops in professional networks. In addition, press material will be prepared on an ongoing basis – and submitted articles for specialist media. Presentations will be prepared for use at professional conferences. RISE and TØI will take the lead on the dissemination of all research results. ITS organizations will organize NMIP meetups and seminars as part of their existing events.
Execution and deliverables:
Task 1: Website and LinkedIn

Establishment of a website and a LinkedIn profile

Task 2: Press materials

A press strategy will form, how when and where knowledge and results from the project are revealed.

Task 3: Presentations

Materials for presentations at conferences etc. will be standardized and presented during the project – and with a final presentation.

Task 4: Organize meetups

ITS will facilitate NMIP meetups and seminars as part of their existing events
---
Work package 7: Project Management (Lead: ITS Norway)
Objective:
This WP ensures the project meets its objectives within budget and schedule. The WP also includes administration of project finances and reporting to Nordic Innovation.
Execution and deliverables:
Task 1: Project planning and management

Refine the described work packages into a detailed project plan and monitor its implementation on an ongoing basis.

Task 2: Project reporting

Prepare all required reports for the project.
---